The Smoking Jacket, Part One: A Port Coloured Jacket for a Luxury-Loving Gent.
In the first instalment of our Guest Blog Month, Textile Conservator Jamie Robinson shares her work on a very special project; the conservation of a late nineteenth century smoking jacket.
By Jamie Robinson
Treatment is underway at Zenzie Tinker Conservation in Brighton on a decadent, aubergine silk, man's smoking jacket from Manchester Art Gallery for their exhibition Dandy Style opening on 4th February 2021. The conservation has been generously funded by the Costume Society's own Elizabeth Hammond Conservation Grant to ensure the jacket's longevity on and after display.
The jacket has been woven from a deep purple grosgrain silk with a brighter, almost magenta-coloured wool core. The rich purple velvet collar and cuffs are further embellished with polychrome silk embroidery of wild roses. Dated to the latter part of the nineteenth century, this jacket speaks of an era when smoking was considered the natural post-dinner pastime of the wealthy male, who accessorised accordingly.
The smoking jacket (as well as smoking caps and slippers) reinforced an air of playful exoticism and often featured fashionable Middle Eastern decorative motifs at a time when men's business attire was becoming more normative.[1]
However, while many variations on smoking jacket loungewear exist, this example still seems somewhat at odds both in fabric and cut of the period, leading us to speculate whether it had been adapted from an earlier dress jacket. We know that there had been a long history throughout the 18th and 19th centuries of publishing embroidery patterns for men's smoking caps and slippers in ladies magazines [2] - could it be that the wild roses were a slightly later edition by a proficient home embroiderer? We may never know.
So what can my initial assessment of the jacket tell us of its wearer? Well we know he was of no small proportions and he was messy, that's for sure! Location and distribution of the holes and damage to the front would suggest some kind of food or drink spillage which was never laundered. These isolated 'drips' have likely resulted in acid degradation and provided a tasty food source for pests resulting in a bib of scattered holes. There are cigarette burns to the collar and bleached stains to the chest but the lining is in almost perfect condition with no indication of the perspiration damage we are all too familiar with in textile conservation. Far from seeing strenuous activity, this was a jacket that was donned for indulgence alone - for feasting and boozing and cigar smoking… or so the picture in my head goes.
Dino-lite digital microscopy images have assisted with fibre identification and damage inspection. We can clearly see the fabric silk wrapped wool rib construction and this adds to our hypothesis that the holes to the front have resulted from pest activity - the perfect combination of tasty stains and animal fibres. The speckled pattern is also indicative of fibre degradation and the fabric has the distinctive, slightly stretchy feel of silk that is starting to break down. This has led me to consider the acidity of tobacco smoke as a contributing factor. It is possible that the excessive amount of pollutants in the environment that this jacket has been exposed to have accelerated decomposition and contributed to colour change.
Conservation has begun with sourcing a suitable ribbed infill fabric and assessing clothing and furnishing silks and silk blends for the most appropriate match. Somehow it did not surprise me, given the history of the garment, that the best option came in at an eye-watering £50 per metre. Dyeing is underway to get the perfect shade of Merlot before stitching begins in earnest. More on the main meat of the treatment to follow…

References:
[1] Saron Sadako Takeda, Kaye Durland Spilker and Clarissa M. Esguerra, Reigning Men (Los Angeles County Museum of Art, Prestel: DelMonico Books, 2016), 87.
[2] "Victoria Smoking Cap," Victoriana Magazine, accessed February 01, 2020, http://www.victoriana.com/Mens-Clothing/mens-smokingcap.htm.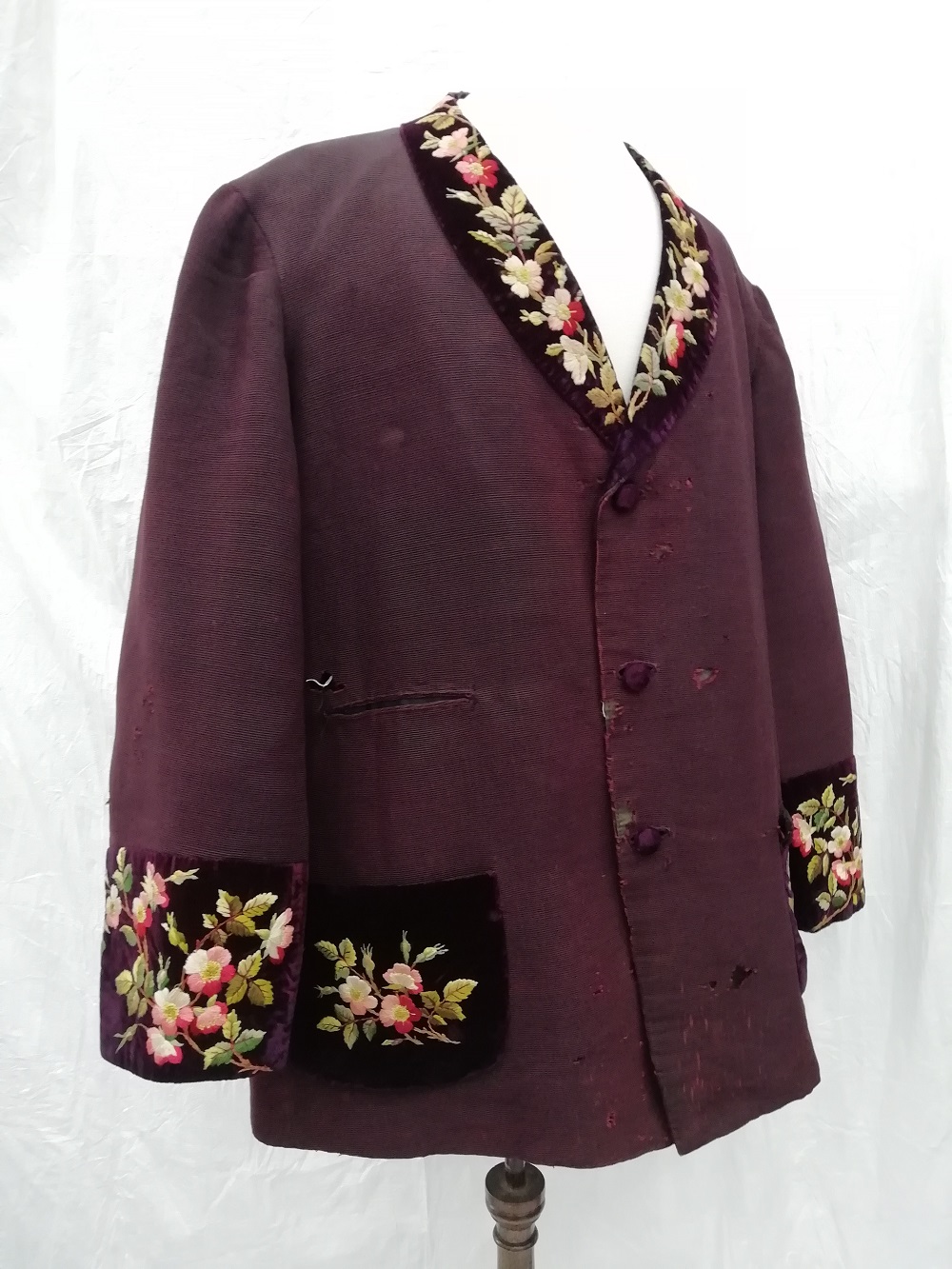 Smoking Jacket before conservation, © Zenzie Tinker Conservation
Detail showing embroidery before conservation, © Zenzie Tinker Conservation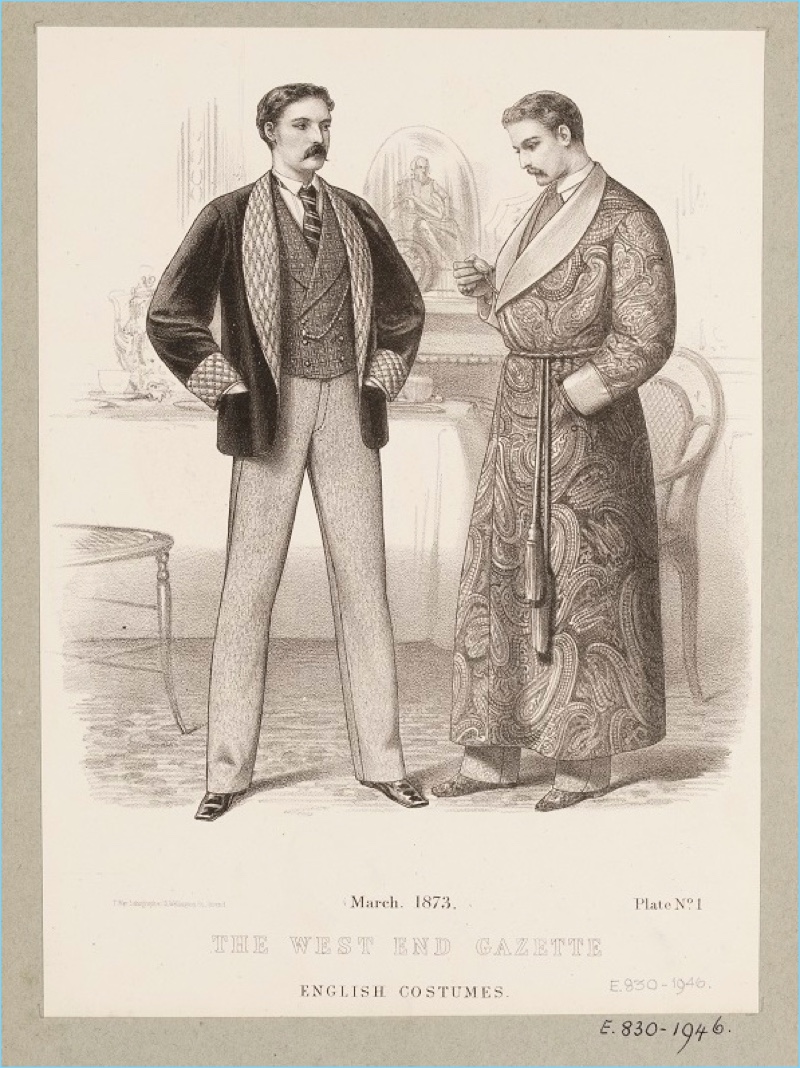 An illustration of 1800s smoking jackets, © www.thefashionisto.comcontentsmoking-jacket-origin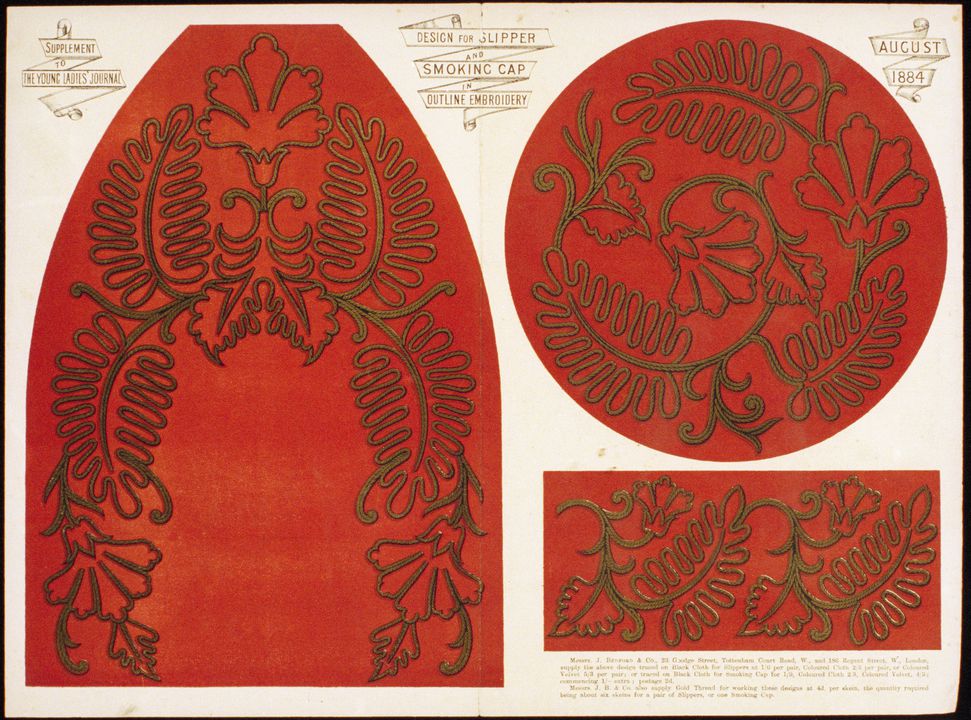 Slipper and smoking can in outline embroidery pattern 1884, © www.collection.maas.museumobject91564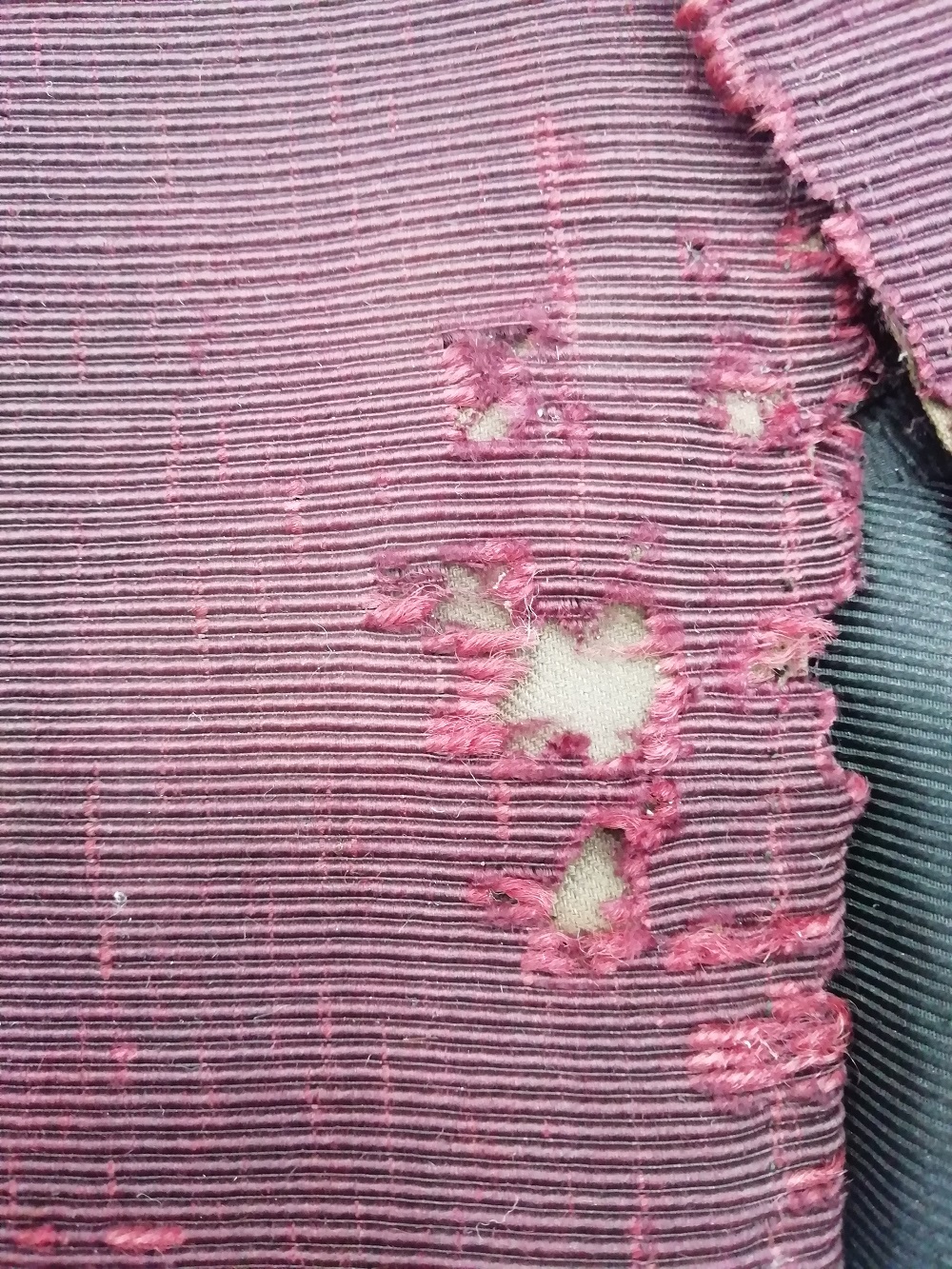 Damage to the front of the jacket resulting from pest activity, © Zenzie Tinker Conservation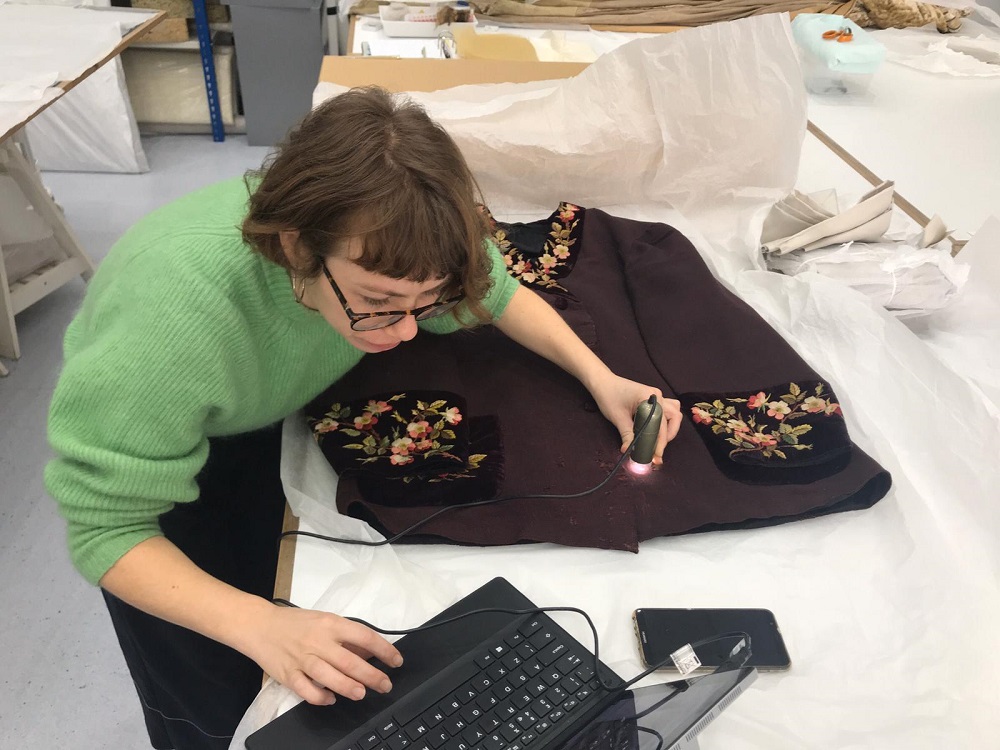 Undertaking Dino-lite digital magnification imagery, © Zenzie Tinker Conservation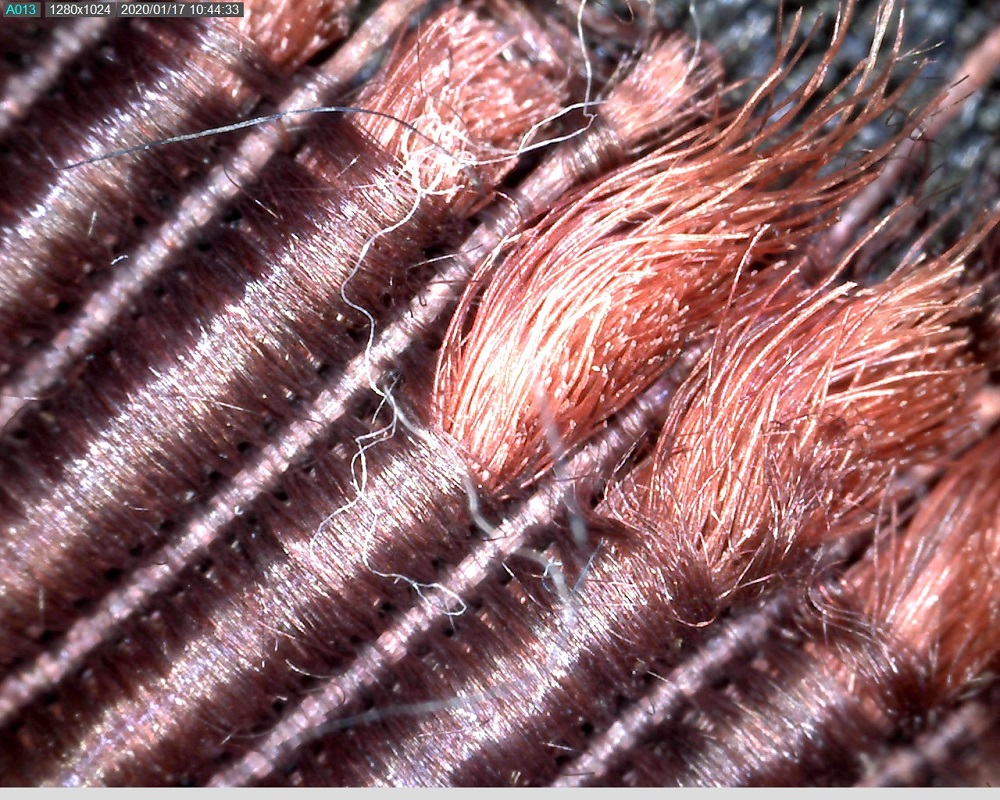 Dino-lite digital magnification image, © Zenzie Tinker Conservation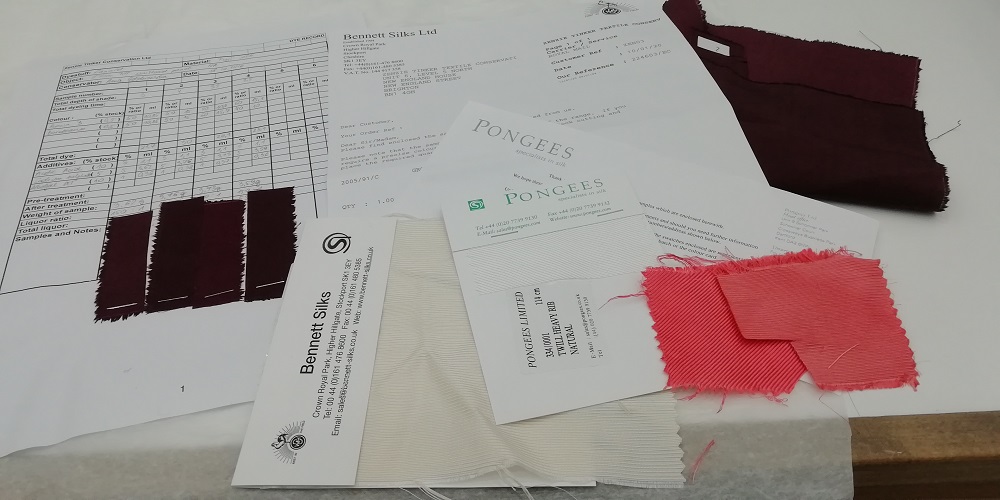 Fabric selection and dyeing sheets, © Zenzie Tinker Conservation
"