The Smoking Jacket, Part Two: A Port Coloured Jacket for a Luxury-Loving Gent
In The Smoking Jacket, Part Two, Jamie Robinson, a Textile Conservator at Zenzi Tinker Conservation, shares the next instalment of her work, completed during lockdown, on a very special nineteenth century port-coloured smoking jacket.
by Jamie Robinson
The Manchester smoking jacket made it into its custom-made box on the stroke of lock down. I am now reviewing the treatment from my kitchen table, wistfully looking over photos of more practical times in the studio, desperate to return to stitching. The jacket's treatment was generously funded by the Costume Society's own Elizabeth Hammond Conservation Grant. While subtle in appearance, the conservation ran to over 100 hours to prepare the garment for display in the exhibition Dandy Style opening on 4th February 2021 at Manchester Art Gallery. Now in this period of reflection from home it seems an opportune moment to take stock explore where all those painstaking hours went.

While the main, glaringly obvious concern was the array of scattered holes to the front fastening, leaving me with a sneaking suspicion that its decadent wearer might have benefited from the use of a napkin tucked under the chin, the lining also exhibited minor structural issues in the form of pulls and tears from use. Splits in the lining silk were supported onto patches of black silk habotai, carefully inserted through the holes with tweezers and couched into position with ultra-fine polyester threads. Nylon net was also dyed and applied over the splitting lining to provide a barrier layer between the lining and the mannequin and help reduce abrasion caused during handling.
Loose embroidery threads were caught down, seams re-stitched and a hole in the lapel, likely caused by a wayward cigarette, patched with a tiny snip of colour-matched silk velvet. All this while contemplating how best to tackle those rather eye-catching holes to the front. While a traditional infill method, involving dyeing fabric to match, inserting a patch into the hole and couching it into position, would provide the necessary structural support, this garment required the addition of something a little more experimental to disguise the exposed magenta wool visible with the loss of silk. As indicated in the previous blog, the two-tone fibre left each hole with a bright red ring round the edge where the wool core had become visible when its silk wrap had been destroyed.
After experimentation I finally devised a successful technique. Ribbed silk was sourced from Bennett Silk Ltd., dyed to match and patches of the dyed silk were cut and inserted into areas of loss. A range of colour-matched threads were blended together and laid over the loose wool ends in a technique more akin to tapestry conservation than costume conservation. This had the dual effect of holding the wool ends down and knocking back their eye-catching magenta hue. The area was then couched over with a fine polyester thread with the overall effect of provided visual infill to help the eye travel over the damage without disguising the loss completely. Certain particularly attention-grabbing areas patches were disguised further by embroidering into them with a buttonhole stitch along the ribs of the silk to replicate the texture of the original.
The edges of the jacket opening were finished with a thin strip of dyed net to protect the vulnerable turn and… Voila! Jacket conservation complete. After all that it seemed only appropriate to give the jacket its own custom sized Corex® box to ensure that it survives the next century (hopefully with a few less spillages).
As conservators we are not trying to deny an object's past life. Indeed, it is our own projection of a rather decadent and debauched life onto the object which makes this garment all the more interesting, speaking not just of a fashion trend but of an individual, of luxury… and excess, beauty and gluttony. Conservators are constantly adapting techniques, as well as materials, to breathe new life into old textiles, balancing object integrity against aesthetic presentability. I hope this case study has offered a little insight into one of the many ways we choose to go about this task and has inspired a little close inspection and reflection next time you find yourself peering into a museum case.
Links:
Manchester Art Gallery
The Smoking Jacket, Part One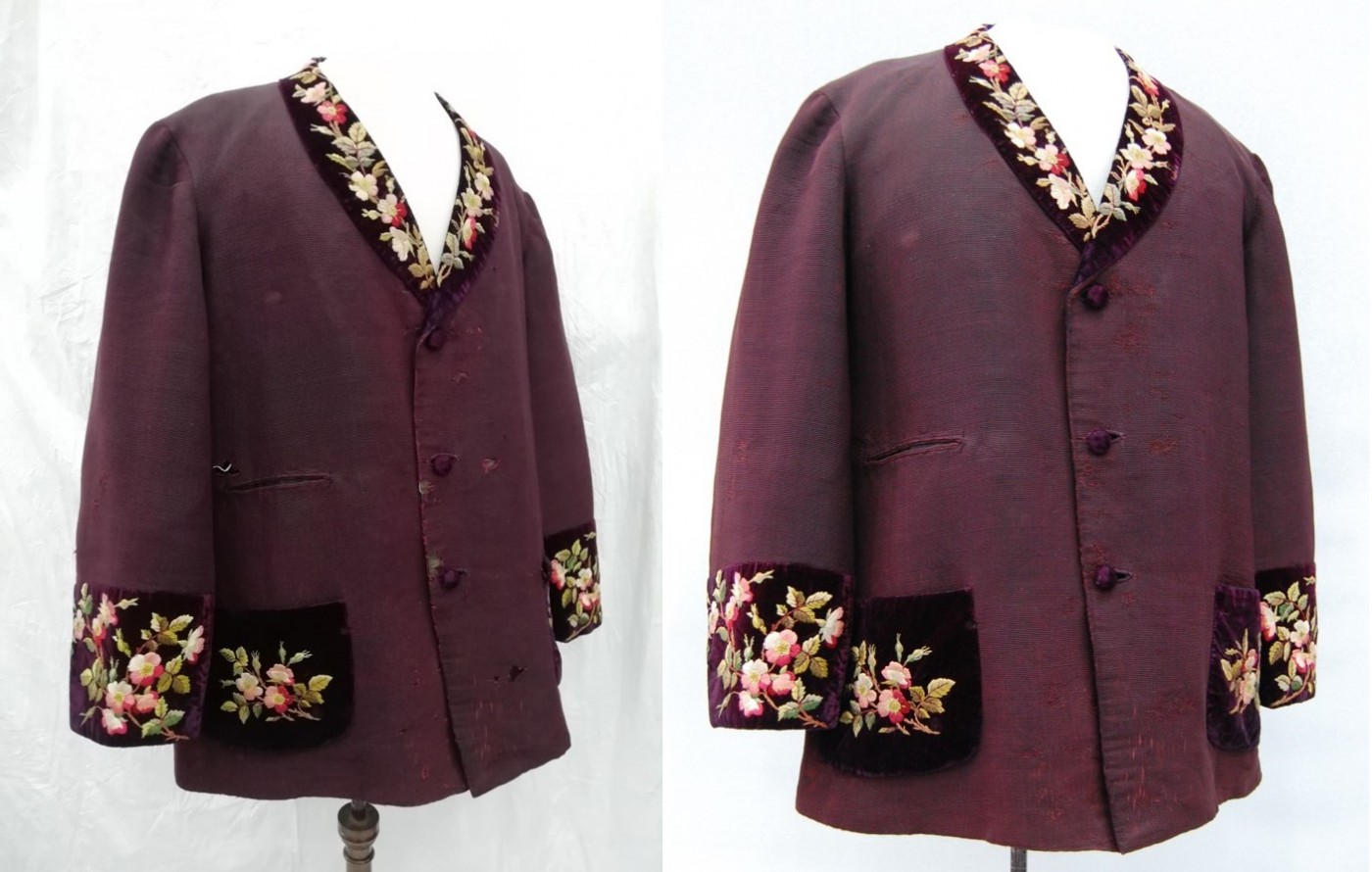 Manchester jacket before and after conservation © Zenzie Tinker Conservation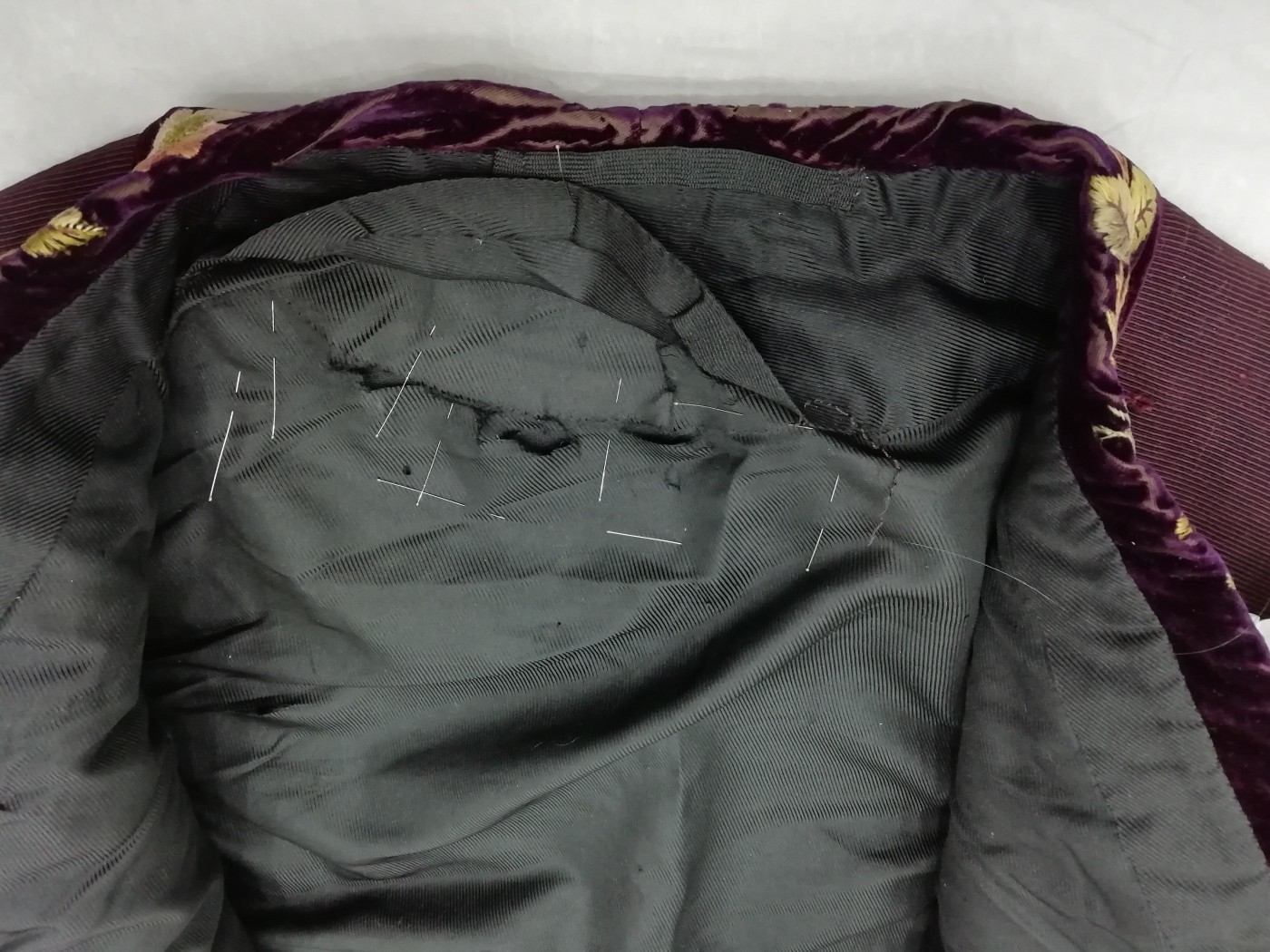 Pinning lining neckline patch into position © Zenzie Tinker Conservation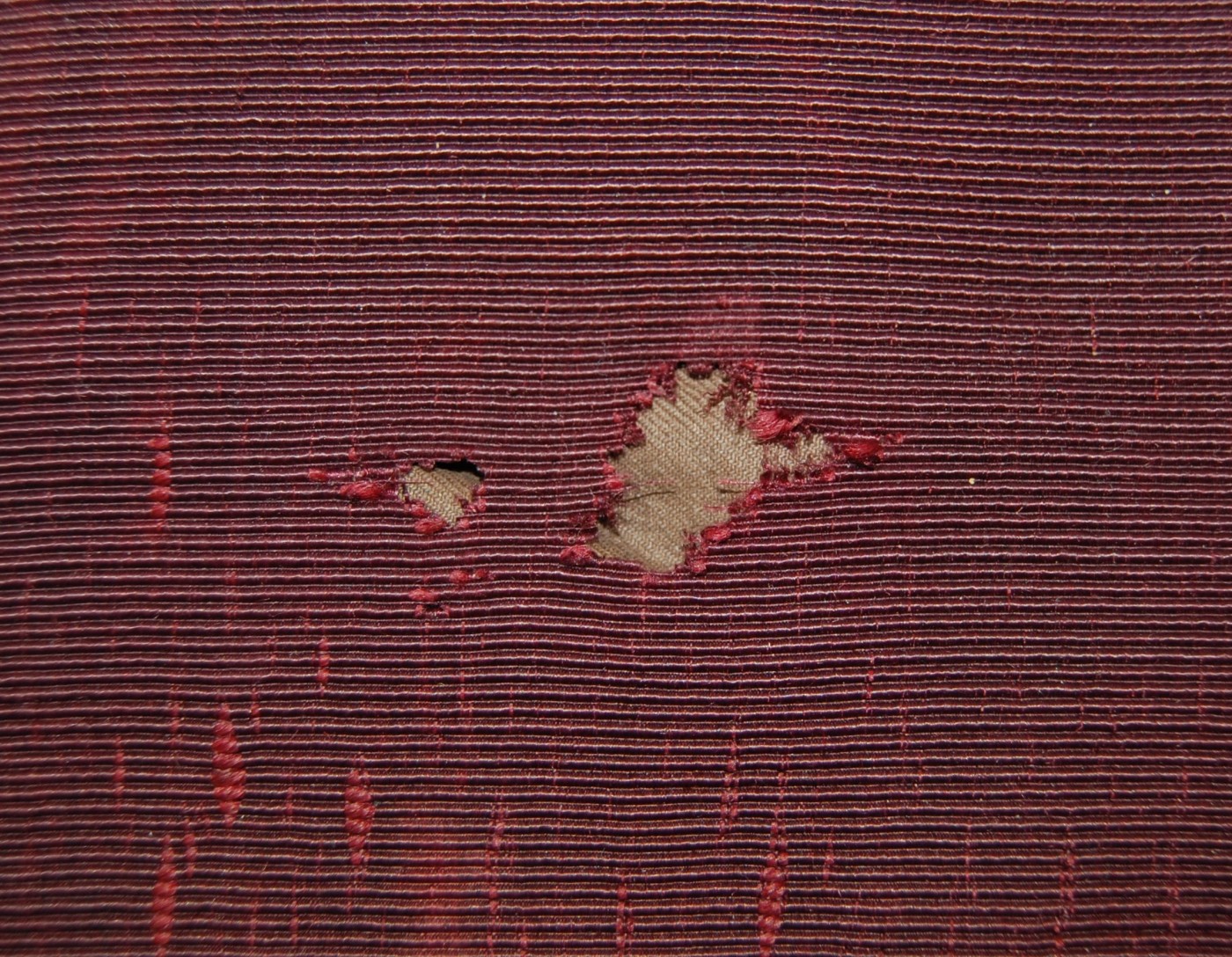 Example of one of many holes to the jacket front resulting from pest activity © Zenzie Tinker Conservation

Inserting the dyed ribbed silk into the hole and stitching it into position © Zenzie Tinker Conservation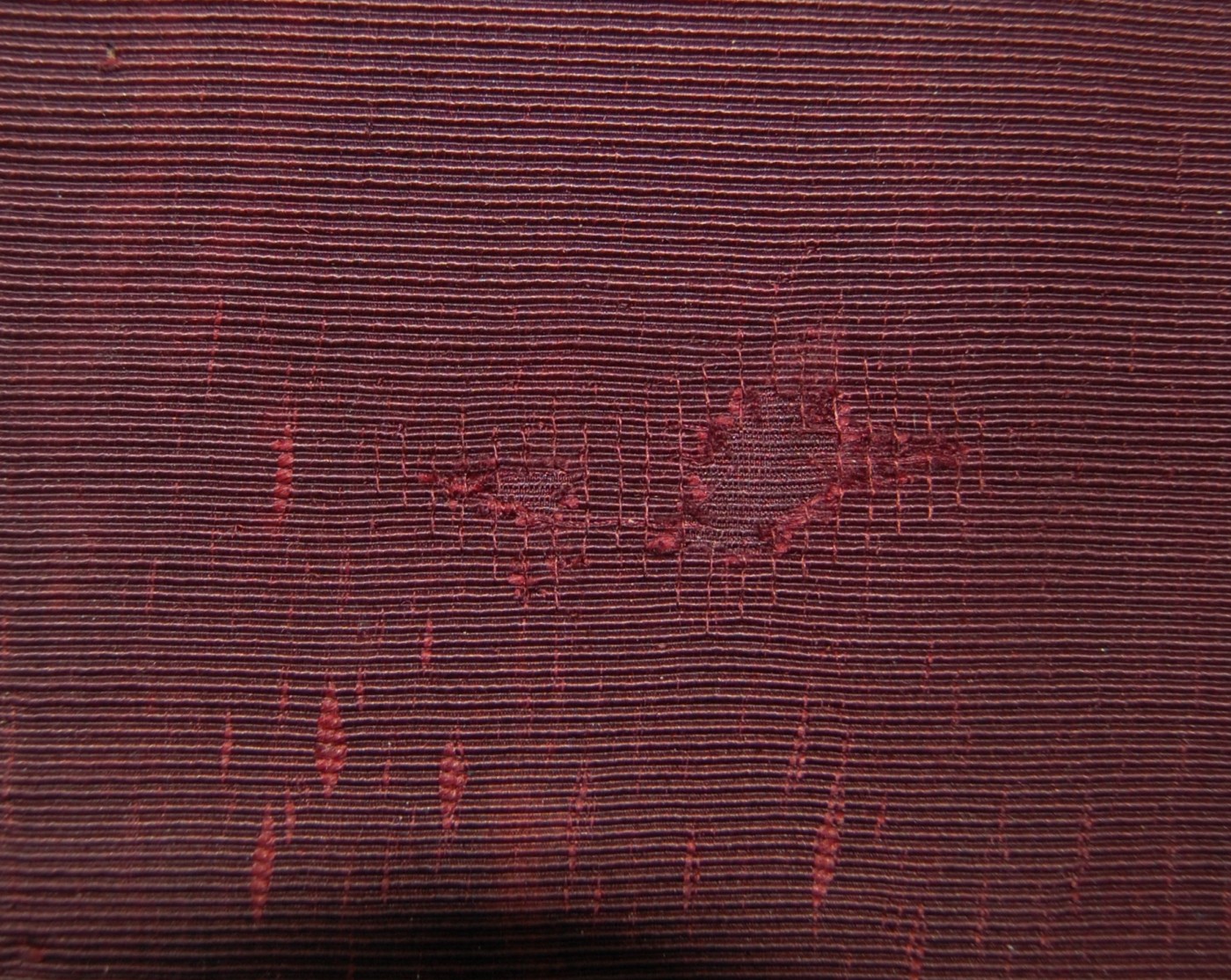 Area of damage after patch support © Zenzie Tinker Conservation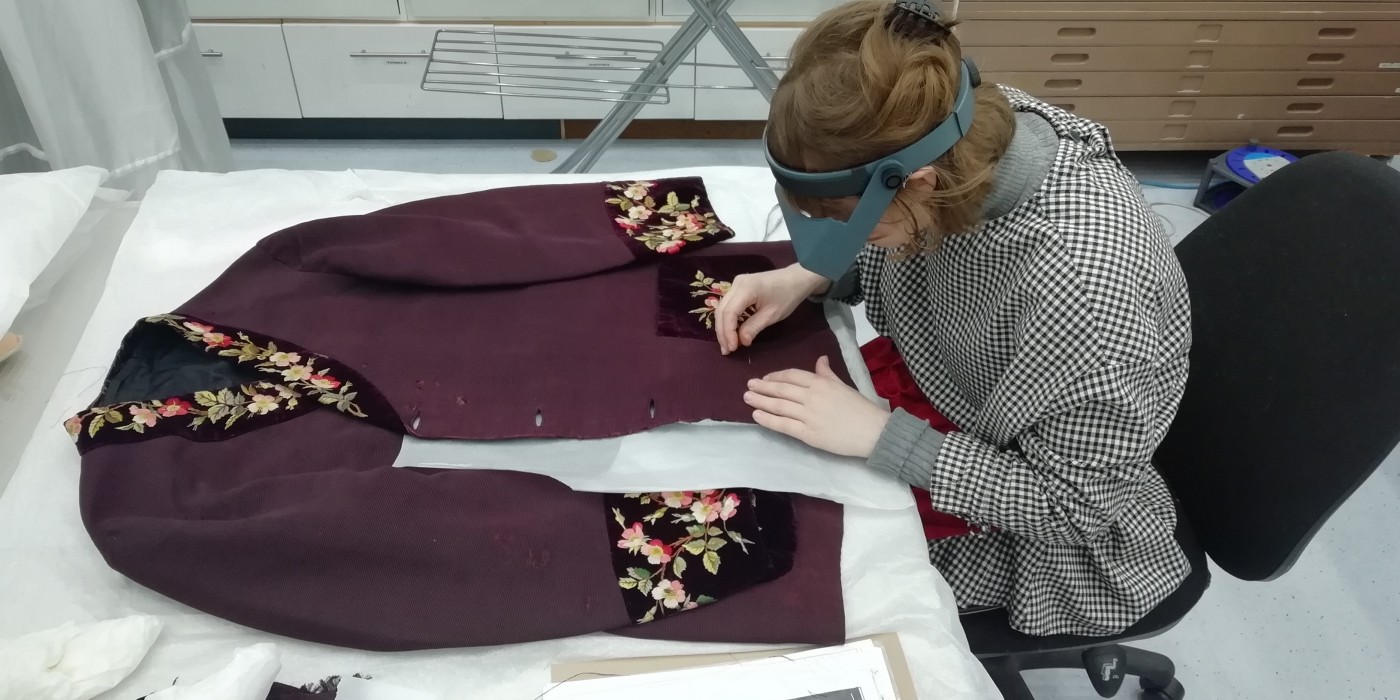 Stitching patch supports in progress © Zenzie Tinker Conservation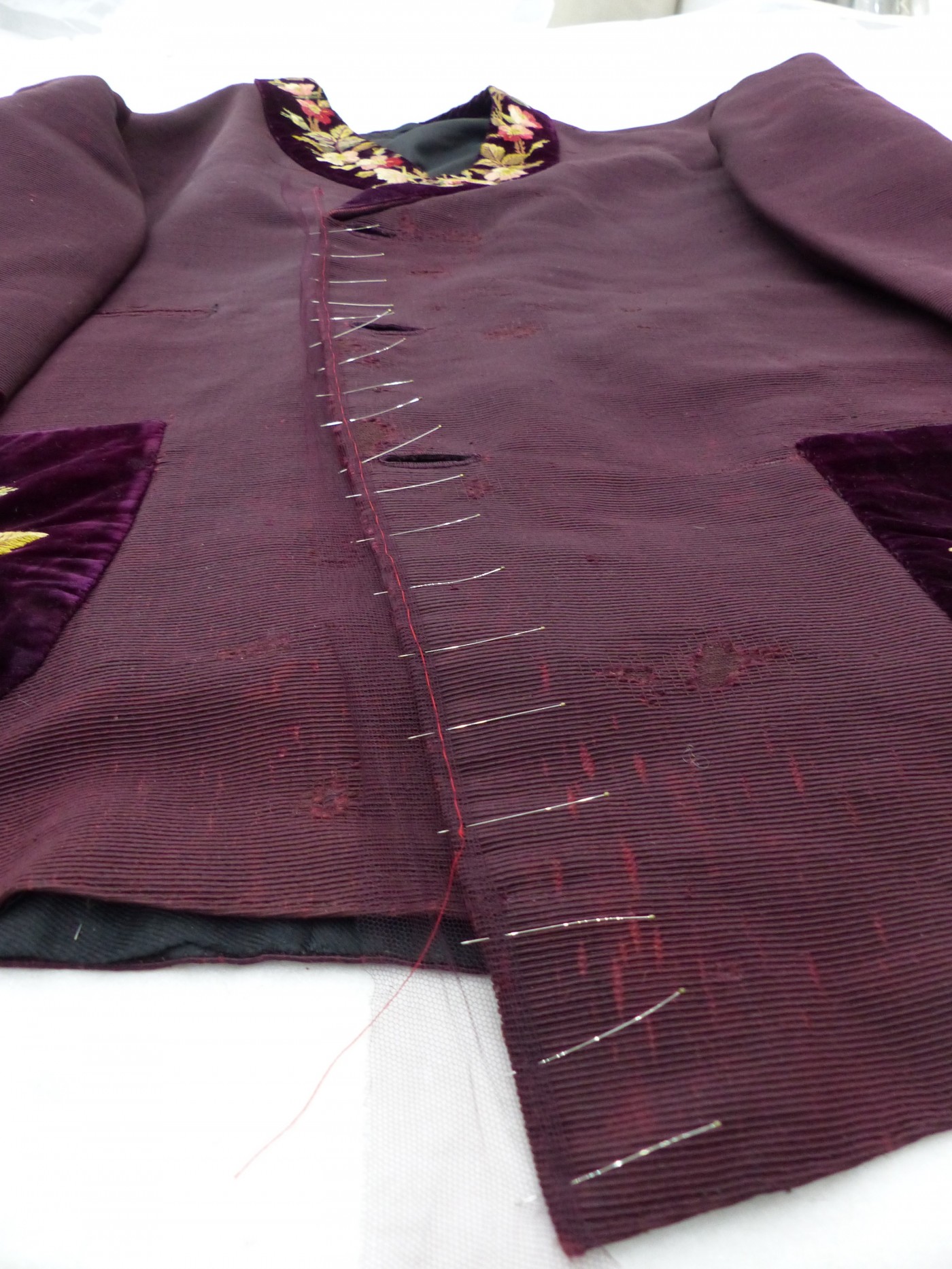 Edging the jacket front opening with dyed nylon net © Zenzie Tinker Conservation
"