Guest Blog Month,2021. To Have and to Fold: The Paper Wedding Gown.
In the first of our Guest Blogs, Dr. Kimberly Chrisman-Campbell explores the paper wedding gown.
The theme of our 2021 conference, Clothing on Paper, pays tribute to Ann Saunders MBE FSA (1931-2019), former Editor of Costume and celebrates the huge contribution she made to The Costume Society. The conference explores the relationship between clothing and paper whether it be in the context of designing and making, communicating ideas or as sources for developing a further understanding of the history of clothes. To support our conference, our Guest Blog Month explores this theme. Our programme of blogs has been created by practitioners and scholars and offers a fascinating insight into the relationship between clothing and paper.
In the first blog of our Guest Blog series, Dr. Kimberly Chrisman-Campbell, a fashion historian, curator, and journalist, explores the brief vogue for paper wedding gowns.
Disposable paper dresses enjoyed a brief vogue in the turbulent 1960s when young people literally wore their politics and interests on their sleeves—and discarded them as easily as used Kleenex. These 'paper' dresses were actually made of high-tech, flame-retardant synthetic or cellulose textiles with unromantic names like Kaycel and Dura-Weave; manufacturers euphemistically dubbed them 'non-wovens'. As LIFE magazine observed in 1966: 'From any casual distance, it does not look like paper at all — but more like cotton fabric. . . . It rustles slightly in motion but no more audibly than taffeta'[1]. Originally developed for hospital gowns and lab coats, non-wovens were quickly fashioned into dresses advertising everything from candy bars to Campbell's soup. The simple A-line and sheath silhouettes fashionable at the time lent themselves to flat planes of paper. Lightweight and easy to slip into an envelope, paper dresses were tailor-made for mail-order sales.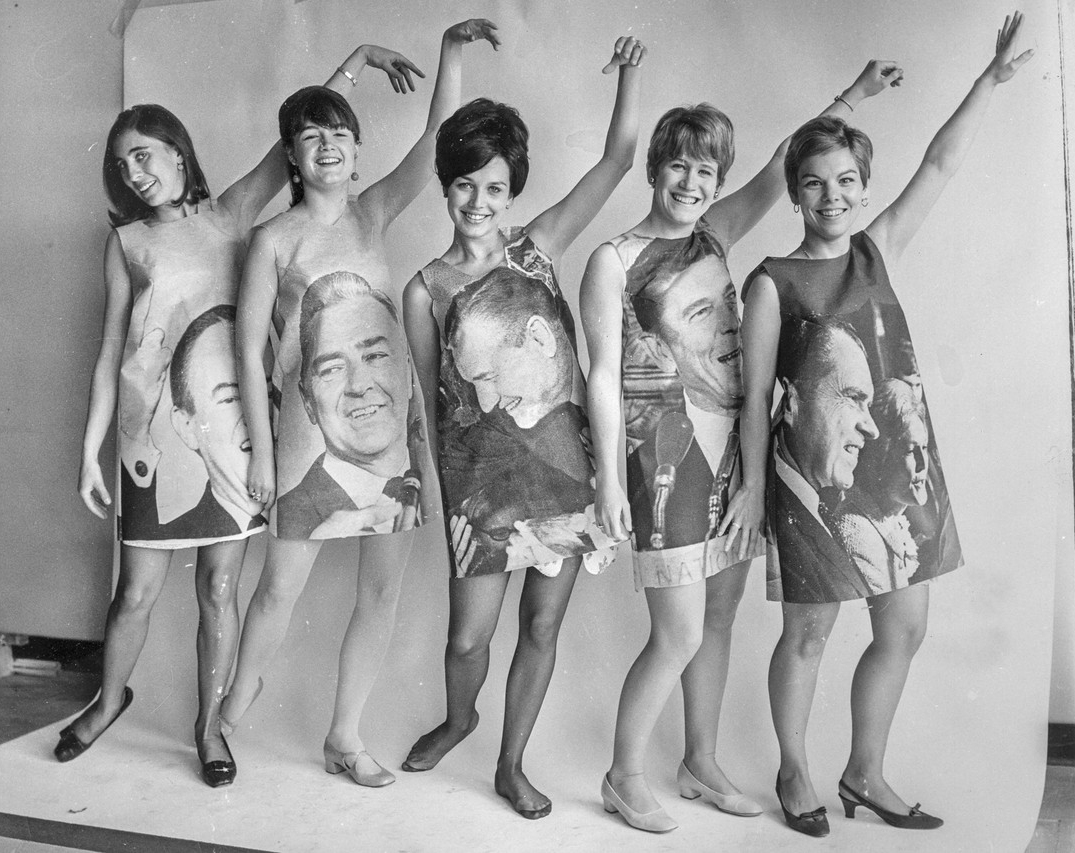 Figure 1: Paper dresses printed with photos of 1968 presidential candidates, from left, Hubert Humphrey, Eugene McCarthy, Nelson Rockefeller, Ronald Reagan and Richard Nixon. Oregon Historical Society/George Moore Collection.
These wearable marketing devices quickly became canvases for more political and personal statements. During the U.S. election of 1968, political campaigns distributed paper dresses as campaign swag [Fig. 1]. 'Poster dresses' displayed bold Op Art designs or day-glo florals. Textile designer Marcelle Tolkoff told the New York Times that paper 'has given designers a new lift. You do things with paper you wouldn't dare with regular fabrics'[2]. Paper companies produced the dresses first but established fashion industry professionals like Ossie Clark, textile designer Julian Tomchin, and the Lord & Taylor department store soon experimented with the 'throwaway' styles. Paper clothes were especially popular for special events like proms and beach vacations. 'They are the perfect answer for the girl who needs that one-occasion dress and wants to be adventurous in her choice of design without going broke in the process', syndicated fashion columnist Helen Hennessy observed [3].
Paper dresses were the original fast-fashion; they flew in the face of the 'make do and mend' mentality of the war years. They could be altered or personalized quickly and cheaply, without sewing skills, then tossed aside. They were not just trendy, but futuristic: LIFE declared them 'the answer to laundry in outer space'[4]. Earthbound women, too, appreciated their labour-saving potential. Their flimsiness and fragility reflected the relaxed sexual mores of a rapidly changing culture
The same cultural and clothing revolutions affected marriage rites. As women gained the vote and entered the workforce in the early twentieth century, they became less dependent on men for financial support and legal protection. Many postponed marriage or rejected it altogether; divorce rates spiked. At the same time, wedding gowns fell out of step with fashion; not only did they retain outdated accoutrements like trains, lace, and veils, but they were increasingly purchased to be worn only once, rather than serving as a bride's 'best' dress.
In the volatile social and fashion climate of the day, even wedding dresses got the temporary treatment. If marriage was just a piece of paper, then the bride's gown could be one, too. 'The ultimate disposable gown must be the paper wedding dress', the Australian Women's Weekly declared in 1967. 'Why not? You only wear it once, anyway'[5]. The article featured a daring bridal ensemble that fashion editor turned paper dress designer Elisa Daggs had presented at a New York bridal show. [Fig. 2] It was 'short enough to show more than a glimpse of ruffled knee pants at the front, though it rounds off into a big circular train at the back', the Los Angeles Times noted. 'A huge candy box paper bow is its headdress'[6]. The made-to-order dress cost $35—a hefty increase from Daggs' usual price point of $6 to $8 for paper eveningwear and beach clothes, but a bargain compared to a traditional wedding gown from a couture house or a department store. 'Paper's future is in these less frequently worn clothes', the designer declared.
In the same year, James Sterling Paper Fashions introduced a paper wedding gown in a more traditional silhouette: a full-length sheath with a bateau neckline and short, puffed sleeves. [Fig. 3] The Los Angeles Times praised its 'rather elegant simple lines' and $15 price tag [7]. While some paper weddings gowns advertised their novelty and disposability with far-out silhouettes or conspicuously crafty details like appliqué or crêpe-paper floral embellishments, this one could easily be mistaken for a pricier (and sturdier) fabric gown
The disposable dress fad showed remarkable durability. At a 1968 wedding in Wisconsin, the Times reported, 'the organist . . . had hardly finished playing the Mendelssohn "Wedding March" when the new Mrs Richard Stelter grabbed a pair of shears. 'She snipped two feet off the bottom of her Grecian-style wedding gown. Presto: an instant cocktail dress for the reception'[8]. The $40 dress by Chicago fashion designer Jita Merson was made of Pro-Tem, a rayon and polyethylene nonwoven fabric; Stelter's bridesmaids wore Merson's $23 paper gowns, which they, too, shortened for the reception. The bride, a university student, carried a bouquet of paper flowers and wore a nonwoven coat for her going-away outfit; the money she saved paid for a sit-down wedding breakfast for 100 guests.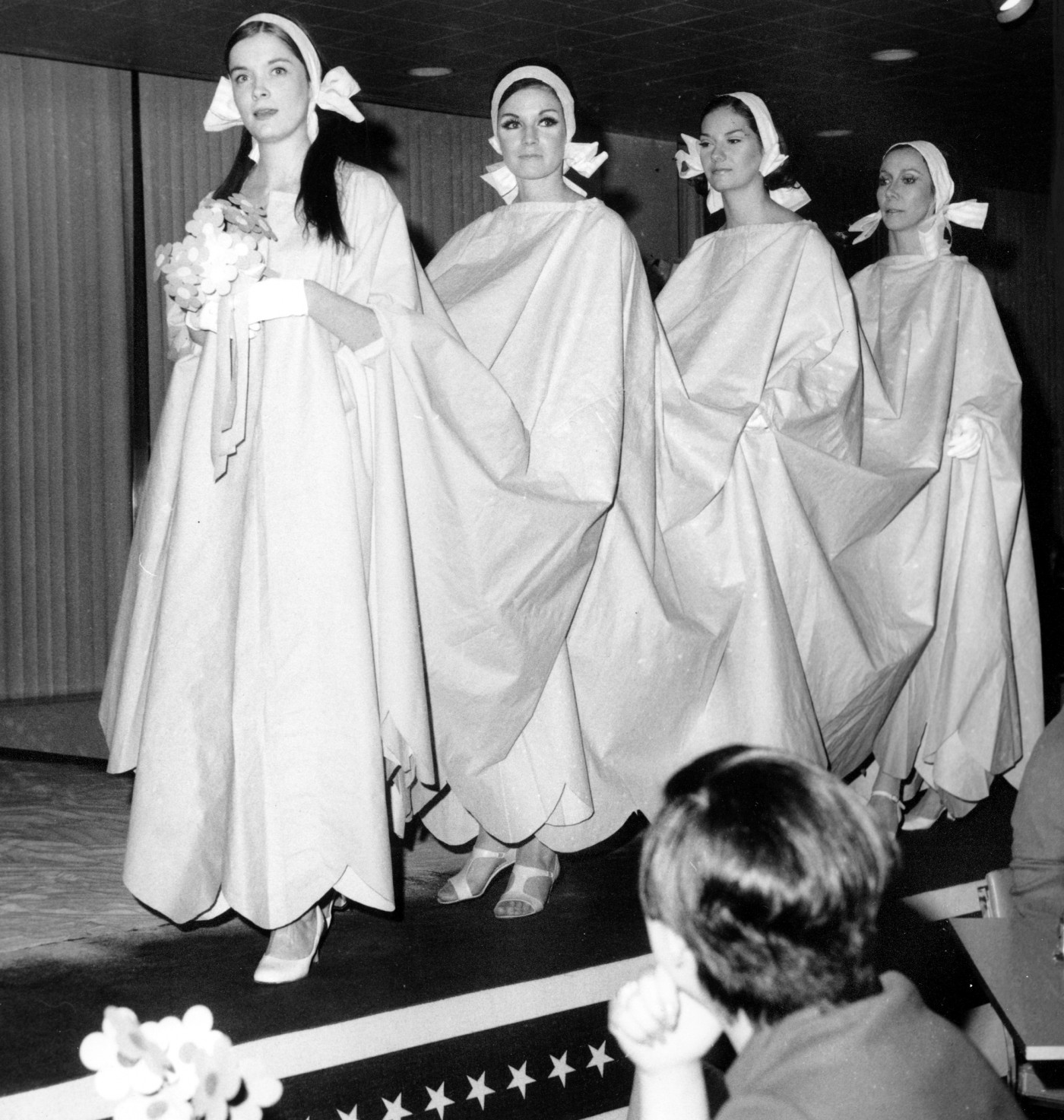 Figure 4: A multi-person bridesmaid gown made of paper is presented at a show of disposable fashions in New York City on Feb. 18, 1969. The four-person train-dress consists of a huge, scalloped sheet of yellow paper with four head holes and eight-arm slits. (AP Photo).
On February 18, 1969, a multi-person paper bridesmaid gown appeared in a disposable fashion show in New York. [Fig. 4] The scalloped sheet of yellow paper had openings for four heads and eight arms, accessorized with paper headbands, gloves, and a paper bouquet. While it is unlikely that this dragon-like dress ever made it down the aisle, it certainly made headlines. By this time, though, paper wedding gowns and bridesmaid dresses were losing popularity to another budget bridal alternative launched in 1966: the romantic, ruffled, ready-to-wear dresses of Laura Ashley.
Although paper gowns were not made to last more than a couple of wearings — much less 'til death do us part — two identical bridesmaid dresses of Reemay spun polyester 'paper' in a colourful, impressionistic floral pattern with empire waistlines, divided skirts, long sleeves, and zippers at the centre back have survived. [Fig. 5] According to their labels, the garments may be 'washed a few times and need no ironing'. Who says you can't wear bridesmaid dresses again?
Author
Dr. Kimberly Chrisman-Campbell is a fashion historian, curator, and journalist. She is the author of Fashion Victims: Dress at the Court of Louis XVI and Marie-Antoinette (Yale, 2015), Worn on This Day: The Clothes That Made History (Running Press, 2019), and The Way We Wed: A Global History of Wedding Fashion (Running Press, 2020), as well as numerous scholarly articles and exhibition catalogues. She writes about fashion, art, and culture for The Atlantic, The Wall Street Journal, The Washington Post, Ornament, and Politico.
Have you booked your place for our online conference Clothing on Paper yet? We will be live for 5 sessions over 5 days in June and July, so you can join us from anywhere in the world!
For more information about the event and how to book your ticket, please visit https://costumesociety.org.uk/conference
References:
[1] 'The Wastebasket Dress Has Arrived', LIFE, vol. 61, no. 22 (25 November 1966), pg. 136.
[2] Angela Taylor, 'Paper Expands Its Domain: Wedding Dresses, Shoes and Bikinis', New York Times (6 March 1967), pg. 58.
[3] Helen Hennessy, '"Paper" Cuts Costs for Brides', The Ithaca Journal (19 October 1968), pg. 4.
[4]'The Wastebasket Dress Has Arrived', LIFE, vol. 61, no. 22 (25 November 1966), pg. 136.
[5] Bill Wilson, 'Paper clothes—once low price, now high style', Australian Women's Weekly, (14 June 1967), pg. 16.
[6] Fay Hammond, 'Here Comes Bride; There Goes Tradition', Los Angeles Times (10 January 1967), pg. D1.
[7] Joyce Haber, 'Another Page to Paper Attire Story', Los Angeles Times (9 March 1967), pg. E2.
[8] Robert Dallos, 'Non-Wovens, From Sheets to Wedding Gowns', Los Angeles Times (30 March 1969), pg. G1.